Alexander Technological Educational Institute (ATEI) of Thessaloniki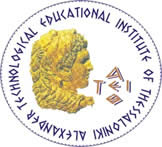 TEI of Thessaloniki consists of five faculties and twenty-four departments with a student population of approximately 28,000 students, holding the fourth position among all Greek educational establishments of Higher Education. Many courses are taught by blended learning using mainly e-learning platforms, such as Moodle. The department of Informatics is one of the leading departments of ATEI of Thessaloniki in terms of teaching and research. It has 20 full-time members of academic staff and full technical support. The department has an excellent infrastructure, is very active in research and participates in various initiatives, such as SIMS, Socires, dEU-Cert, EU-Cert, DBTechExt, e-Lamp, NET-IS (LLP projects) and ICT and Media Convergence (Tempus project). The department has substantial managerial and research experience in issues related to globalisation, quality assurance, cultural divergence, entrepreneurship, the labour market and links to industry.
For more information you can visit http://www.teithe.gr/
ATEI's role in VALO
The ATEI of Thessaloniki is the project leader with several years of experience of managing and/or participating in many EU projects (Tempus, Grundtvig, Socrates and Leonardo) as well as several ECQA projects (SIMS, SOCIRES, dEUCert, EUCert ) and the Digital Marketing (DiVa) project. ATEI and the participating staff are members of ECQA. ATEI will act as an expert partner having substantial relevant expertise in project management, QA, e-learning, social media, e-marketing and cultural diversity. The involved members of academic staff have considerable experience in managing, leading and carrying out QA and dissemination activities from a number of EU LLP and national projects related to Careers and Entrepreneurship. They have a big network related to the labour market and have long experience in developing teaching material from previous projects and over 20 years of high-level teaching in both traditional and e-learning environments. They will have overarching project co-ordination responsibility and will contribute substantially to curriculum development, preparation of learning material and exam questions as well as QA and dissemination activities.