International Software Consulting Network (ISCN)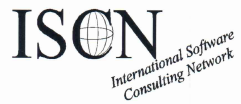 International Software Consulting Network (ISCN) LTD was founded in 1994 in Ireland. It is an Irish SME with software development offices in Austria, with a private ISCN 'Regionalstelle' founded in 1997, and I.S.C.N GesmbH founded in 2001 in Graz. ISCN experts have large experience with e-commerce, e-learning, e-management and e-marketing. ISCN has developed a number of leading edge solutions in that area in partnerships. In an EU partnership CREDIT ISCN developed with partners from the UK and the Netherlands an online skills assessment and accreditation system supporting EU skills cards. ISCN coordinates the EuroSPI (www.eurospi.net) initiative which will help raising wide awareness and the knowledge in Europe from the previous platform projects and will help set up the knowledge service. ISCN was also the coordinator of the EQN (European Qualification Network) and technical director of EU Certificates and the technology provider for the ECQA. Dr. Richard Messnarz is also the vice-president of the ECQA.
ISCN is the coordinator of the EuroSPI (European Systems and Software Improvement and Innovation) initiative since 1994. An annual EuroSPI conference is held since 20 years. Leading publishers like Springer, Wiley and IGI-Global support this. A think tank for European improvement including contributions from 289 nations is coordinated.
For more information you can visit http://www.iscn.com/
ISCN's role in VALO
ISCN will manage the technology configurations of the existing LMS systems, to create an online European learning platform for the new profession/job role in Europe, and to integrate this with ECQA. ISCN has helped many companies (SMEs as well as large multinationals) to become a learning organisation with online learning and tutoring as the key factor. ISCN will support, as the technology provider of ECQA, the flawless integration of the new profession to the ECQA Framework. ISCN will coordinate the integration of the skill set and configuration of the exam system and train the partners in using the ECQA IT-Infrastructure. ISCN as one of the leading consulting and training organisations in the field of information technology will share its experience with the consortium As the coordinator of EuroSPI, ISCN will guarantee that the project results will be disseminated to approx. 20000 IT and service managers in Europe.