IEK-Thermi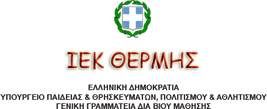 The Greek Institutes of Vocational Training (IVTs) were established in February 1992 with the aim of providing necessary expertise and know-how and thus facilitating specialisation in Vocational Educational and Training (VET). This new institution was warmly welcomed by the Greek community and there was also great interest by the students, who responded to it with enthusiasm. The IEK Thermi was founded in 1993 and aimed at covering the educational and vocational needs of the region of Eastern Thessaloniki and its surrounding area. Due to the fact that Thermi is located near the airport and the highly touristic region of Halkidiki, emphasis and priority was given to fields such as Tourism, Transport, IT, Management, Marketing and Finance. The IEK of Thermi demonstrates a dynamic profile having become the second biggest Institute of Vocational Training in Greece (size and status) during the years 1996-2000. In total 178 students are currently attending courses in nine different fields.
For more information you can visit http://iek-therm.thess.sch.gr/
IEK Thermi's role in VALO
The main role of the IEK of Thermi in the VALO project will be to promote the Valorisation Expert profession to its students and to organise training and dissemination events. For the students it will provide a European dimension and an opportunity to take part in the European wide ECQA platform through the Valorisation Expert profession. Also the collaboration with the Chamber of Commerce and Industry of Thessaloniki in this project will provide an innovative networking option and future employment opportunities for the students. More specifically the IEK-Thermi will:
1

Contribute to the Valorisation Expert know-how.

2

Support the transfer of the ECQA schema and the ECQA Valorisation Expert Training.

3

Organise, conduct and report on trial trainings for of minimum of 20 trainees.

4

Cooperate in the development of guidelines for training the trainers' event and the training of 2 trainers.

5

Cooperate in the development of the dissemination plan and dissemination activities.

6

Cooperate in the development of the sustainability plan.