University of Vaasa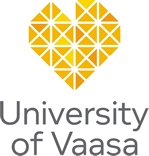 The University of Vaasa is a multidisciplinary business-oriented public university. The university has three faculties namely Business, Technology and Philosophy. It has 5,300 students and 450 staff. The Department of Production, located in the Faculty of Technology, staff (3 professors and about 20 full-time researchers and teachers) are specialised in industrial management topics such as quality, logistics, production and technology management. The department has participated in several European projects over the years, including school management and quality of education. The department of Production has been developing and researching good practices for dissemination and valorisation of Education Projects in the DIVA-project.
For more information you can visit http://www.uwasa.fi/english/
University of Vaasa's role in VALO
The University of Vaasa will transform acquired knowledge from DiVa and several other educational projects. University of Vaasa will especially work on the subtasks Training Material and Pool of Exam Questions in this project. Also University of Vaasa is going to be involved with Trials and Train the Trainers.